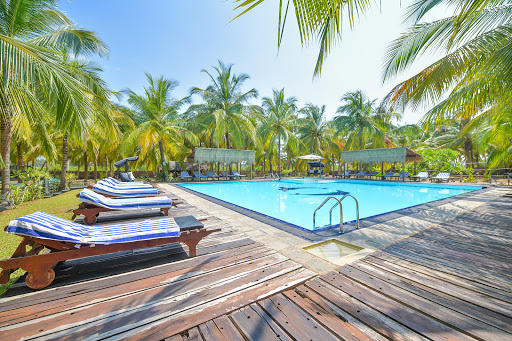 If you are an outdoor enthusiast and have that extra adrenaline pumping in your body then windsurfing in Sri Lanka and kitesurfing sri lanka are definitely your kettle of fish in the Indian Ocean. The De Silva Wind Resort at https://surfschool-srilanka.com/ should be your next destination when you want to flex your muscles and experience excitement unlimited. The kitesurf camp for singles under our umbrella could cater to your every need and ensure you have the best holiday in the water this time around.
The coast off Kalpitiya in the north west of the sunny island nation of Sri Lanka, popularly called the pearl of the Indian Ocean is the best kitesurfing place for beginners. If you are new to this exciting sport the best kite school sri lanka is where you should learn because we are experts who will impart our knowledge and assure you would become adept and enjoy every minute in the water. Come to the best kitesurf family hotel srilanka and give your family a treat like none other experienced anywhere else before. Safety is our primary concern and we employ only the best equipment from reputable manufacturers in the industry.
We are acknowledged by many who have visited our part of the world during the last few years that we are the best and only one of a kind kite resort sri lanka. The brains and the muscles behind our exemplary reputation to be the best is none other than Upul De Silva, who was four times National Windsurfing Champion of Sri Lanka. He and our team of enthusiastic trainers would ensure that you take back with you not only a bundle of exciting memories but learning a sport for which you would come back here again.
The coast off Kalpitiya is renowned for its dramatic changes in wind directions making windsurfing and kite surfing that much more exciting than anywhere else in the world. If you are contemplating of learning these exciting sports then the place that you should try it out and learn the art is only at our kite school sri lanka. You could hire the equipment needed or purchase them from our fully fledged equipment store nearby. Come to where the excitement is in the windsurfing and kite surfing universe which is none other than Kalpitiya, in sunny Sri Lanka.