Kitesurfing school in Sri Lanka:
We´ll make you ride!
Sri Lanka Tourism Award Winner
"Best watersport center" & Kitesurfing school in Sri Lanka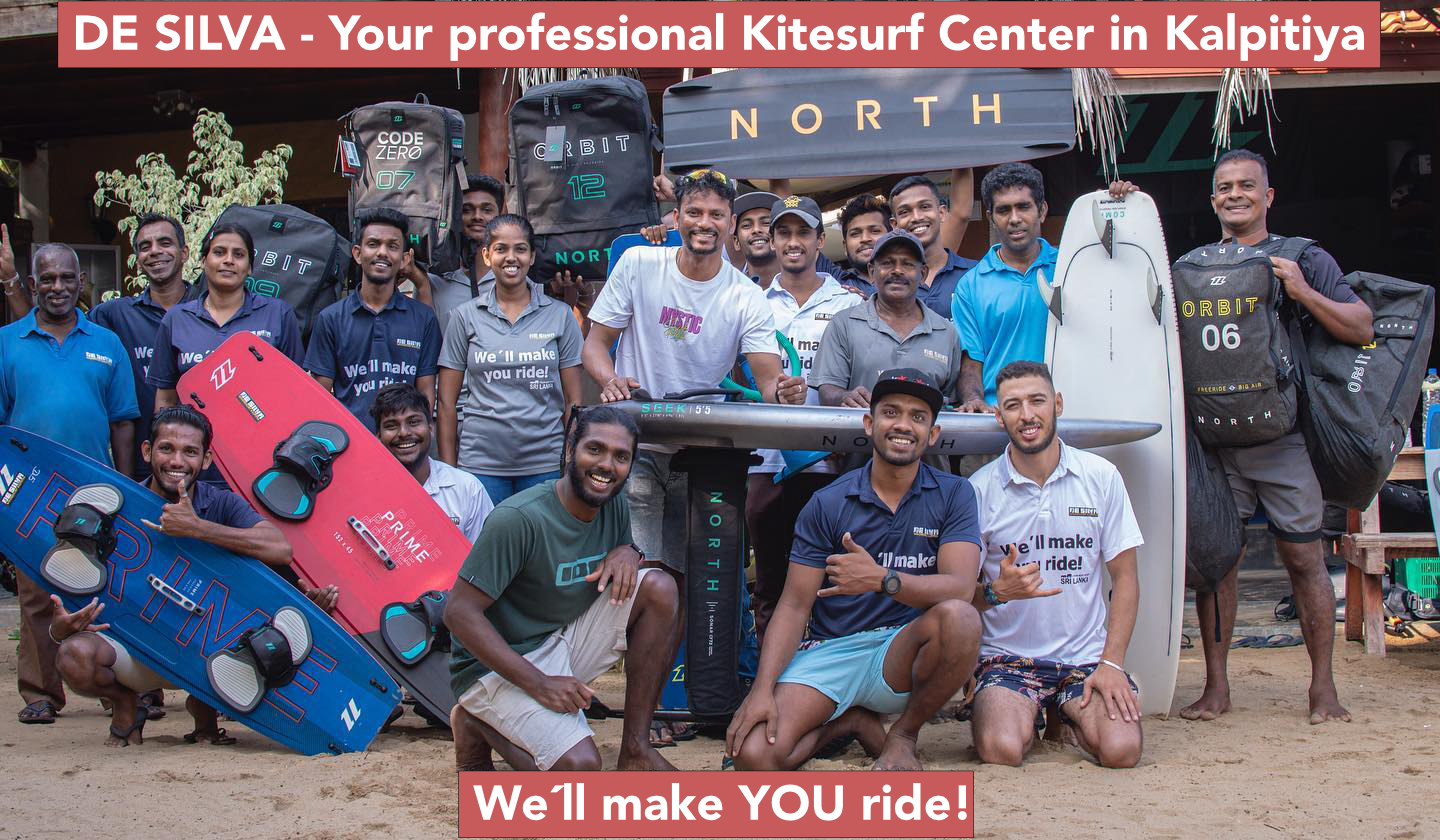 Kitesurfing school in Sri Lanka
Best wind season to visit Sri Lanka for kitesurfing, windsurfing, wing-foiling and wind sports:
Kite season summer months May-October:
Wind direction: south-west
Wind-average: 20-25 knots
Days of wind: almost every day, sometimes it's a bit gusty – but it's still one of the best spots in the world during summer months!
Kite season winter months December-February:
Wind direction: north-west
Wind-average: 15-20 knots
Days of wind: 4-6 days a week, but very constant wind!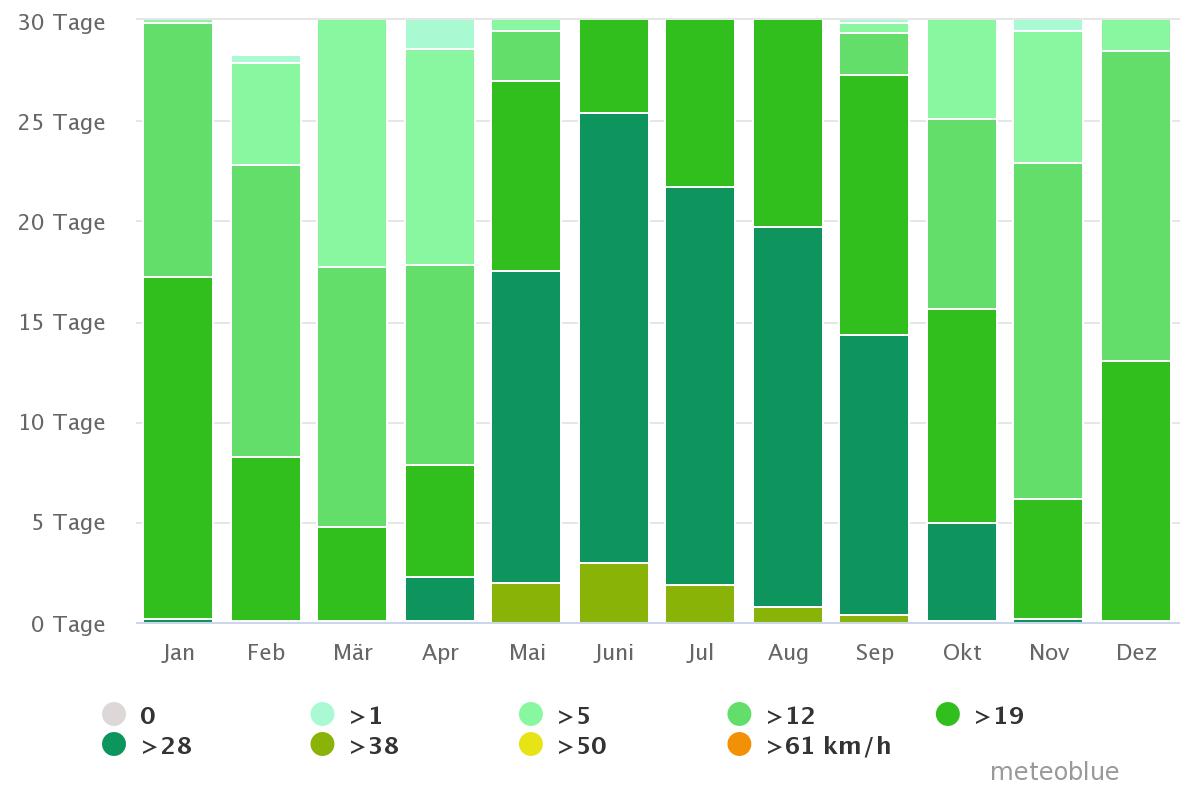 The conditons are really good for Freeride and Freestyle as the water is really flat. You can stand pretty much everywhere without swimming
and the water is around 28°C to 30°C.
Next to 10 months of wind, Kalpitiya offers the huge Kalpitiya Lagoon with flat waters, standing areas (perfect for beginners - safe with no reef, sharks or obstacles) and special teaching zones. In addition, the ocean is just a jump away where higher levels can go for a ride! Also you can join our team during the many spots for kitesurfaris and downwinders around Kalpitiya´s region 😉
READY FOR ACTION?
Sports Photography by Pathum
Wouldn't it make your holiday perfect, to have some amazing pictures of you on the water?
This winter Pathum de Silva will be again at our resort and not only give you Kitesurfing-, Windsurfing-
Wing Foil lessons, but also offer photo shootings and picture packages. As he is teaching and
practicing the sports himself, he knows when to take the picture, to make most out of your trick
riding. With his Nikon camera and teleobiektive you will get high quality pictures, also when you
are not close to the beach.
Photography - Packages
5 high quality pictures - 3 edited 50€ |
10 high quality pictures - 5 edited 75€
The best Kitesurfing school in Sri Lanka – book your kite surf holidays in Kalpitiya The best Kitesurfing school in Sri Lanka = De Silva Windresort. De Silva offers the best kitesurfing school and kite surf center in Sri Lanka! Book kitesurfing lessons and rooms directly at Sri Lankas kite spot Kalpitiya! 
COVID Facts:
There is no quarantine period for not-vaccinated / not-fully vaccinated travellers.
Those only have to obtain a negative PCR test report within 72 hours or Rapid Antigen Test report (self-swabs are disallowed) within 48 hours prior to embarkation. (Children below 12 years are exempted).
no quarantine
arrive and go kitesurfing/windsurfing at the BIG Kalpitiya Lagoon
discover with us the best downwinders of Kalpitiya region
jump into the ocean, next to the lagoon
Why should you stay at De Silva and what can you expect from us?!
The spot is where you are!
Move all times between the big Kalpitiya Lagoon and the Indian Ocean. Observe the wind conditions from our upper deck Chillout terrace! Depending on the wind direction you can either launch your kite directly in front of our resort or you can take a boat to the teaching zone on the opposite side of the lagoon.
More than 20 years of teaching experience!
We´ll make you ride!, whatever level you start from 🙂 We are happy to teach you in kitesurfing, windsurfing or wing-foiling! The owner Upul De Silva is himself a multiple Sri Lanka national windsurfing champion, worked as windsurf & kitesurf instructor all over the world and lives his passion for water sports.
Free Wifi for our guests!
At common places you have best connection for streaming and working – 4G fibre cable! 24hrs for all digital nomads 🙂
Benefit from the De Silva service!
Take advantage of the infrastructure of our two resort: large swimming pool, chillout-terrace with lagoon view, Ayurveda center, 2 restaurants with full board service, North Kite and Windsurf Center, boat service and rescue, airport service, tour-operator…
Learn with the best!
We are proud Sri Lankan Tourism Award Winner 2018 in the category – "Best water sport center in Sri Lanka"!
Stay in one of our two resorts – Kitesurfing school in Sri Lanka
We would be more than happy to welcome in Kalpitiya as one of our next guests. Have a look on our rooms and bungalows we offer in our 2 resorts. If you look for the real surfer-style you are right at De Silva Windresort. If you prefer more convenience have a look into our De Silva Palmresort rooms! You can book your room with us directly (Book Now button or send us your e-mail request), through our travel partners like Surf & Action, Surfbude and a lot more. Or you check the offer on bookingCom or Expedia.
Need help in your decision? Just text us via e-mail: office@surfschool-srilanka.com
De Silva 2** PALMRESORT
Rooms for Comfort Lovers
Modern. Comfortable. Tropical Style.
DE SILVA Windresort
For ECO Friends
Feel good. Relax. Experience nature.
Our valuable guests may of course use all the amenities of both resorts 🙂
Whatever Level you start from – Well make you ride!
Learn with us kitesurfing, windsurfing or wing foiling here at hotspot Kalpitiya Lagoon! Rent top equipment or buy your new North kite in our surf shop!
Kitesurfing school
Above all, the best kitesurfing school in Sri Lanka offers high-end instruction standards (VDWS) and individual courses to make you ride! Book your individual kite surf course here and read in short what you will learn during your beginner course!
New in program: Wing-Hydrofoiling
Try out the new trend sport Wing surfing or wing Hydro-foiling directly at Sri Lankas hotspot Kalpitiya Lagoon! Give it a try and fly over the waters…
Windsurf center
The one and only windsurf school in Kalpitiya! Offered by Sri Lankan 4th times windsurf National Champion Upul De Silva. Learn windsurfing here at Kalpitiya Lagoon! Book your windsurf lessons and rooms directly at Sri Lankas hotspot Kalpitiya Lagoon!
Buy North Kites
Actually we offer the new NORTH Kiteboarding equipment! You can rent and test it or buy your new North gear at our surf shop. In case you bring your own kites and boards just store them with us during your water sport holidays. Therefore we offer a secured storage for free!
Best kitesurfing school in Sri Lanka
Upul De Silva & De Silva Team
Our motto is "We´ll make you ride" so whatever level you come from we offer you best conditions here in Kalpitiya to have a great surf holidays!
Upul De Silva, himself a successful windsurf (Asian Games 2006) and passionate waterman founded the surf school in 2009, as one of the first at a time when Sri Lanka was unknown as a wind sports destination.
Read more about our story and get to know our De Silva Team…
Kitesurfing in Sri Lanka: Kalpitiya
Book your kitesurfing lessons and rooms directly at Sri Lankas hotspot Kalpitiya Lagoon!
Next to 10 months of wind, Kalpitiya offers the huge Kalpitiya Lagoon with flat waters, standing areas (perfect for beginners) and teaching zones. In addition, the ocean is just a jump away where higher levels can go for a ride! 
Moreover there are a lot of options to make a kite trip: e.g. Vella Island, Dreamspot or down-winders!
Read more of the spots and our kite school in Sri Lanka…
Stay at De Silva Resorts
To sum up, a lot of amenities await you next to the kite school and the windsurf center: Refresh during a swim, relax while your Ayurvedic treatments, compete in a billiard match or just relax in a hammock 🙂
In our restaurant we serve you best and totally fresh foods from the region.
On the other hand at DE SILVA surfbar you can order fresh cocktails, coconuts, soft drinks and lion beer.
During your whole stay at De Silva we will take care of your well being – so just have a great time in Kalpitiya!
Kalpitiya
Kalpitiya as a region is very strongly influenced by fishing. After the first tourists found their way to Kalpitiya about 10 years ago (after the end of the war), traditional handicrafts can be seen everywhere. Likewise through the booming tourism a lot has changed. The profitable economy offers many families a new livelihood and promotes growth in all areas. De Silva is considered the initiator of water sports tourism in Kalpitiya and was one of the first to introduce Kalpitiya as a kitesurfing and windsurfing spot to the world and to market it as such.
Just a 5 minutes ride with a tuck tuck you reach the center of Kalpitiya town. Even there are not many attractions, you have the option to get a insight of the real life Sri Lankan inhabitants. In terms of progress, Sri Lanka is still behind the European standards in many ways but for this you can still see tradition craftsmanship! 
De Silva Charity - What we do for others...
As a hotel company and kite school in Sri Lanka, we overtake responsibility for natural environment! De Silva does not withdraw from this topic and tries to take a leading role!
That is to say, we have changed our hotel business into plastic free.
We try as much as possible to avoid waste when buying food for the hotel.
Certainly we hope to create awareness by cleaning Kalpitiya´s beach & streets!
We support poor families and school children in Kalpitiya with school books and clothes.
There´s a lot more…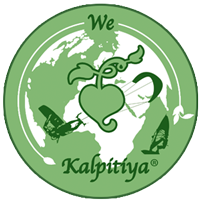 Sri Lanka Tourism Award winner
As proud winner in the category "best water sport center"of the last Tourism Award, De Silva offers for both resorts the best kitesurfing school in Sri Lanka! Next to the kitesurf center you find the most professional windsurf station with SUP and the new trend sport wing foilsurfing.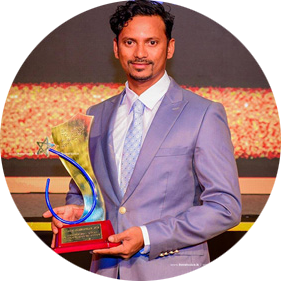 Personal words from the owner…
In case you search the internet for a suitable accommodation for your next dream holiday in Sri Lanka, you will find more than enough offers. At DE SILVA we offer you the unique surfer style with comfortable rooms in a relaxing natural environment.
Even tough every kite school in Sri Lanka has its offers only one can be the best and this is us! We offer you highest standards as internationally recognised water sport provider. Wether in Kitesurfing or Windsurfing as well as top equipment for rental, kite lessons and individual trainings.
Besides the stable wind months, Kalpitiya has a lot more to offer! You can observe dolphins and whales during the winter months, see Sri Lankan Wildlife during a Wilpaththu Safari or join our well organised downwinders. Moreover, we have installed many amenities and activities for your comfortable stay in Kalpitiya 🙂
For your info: Our company is an officially registered local business that is managed and operated by local people. We thus create jobs for locals and also contribute to the economic growth of the region and the people of Kalpitiya. We also enrich our team with employees from all over the world, with international know how, different cultures and people. You support with your booking our concept as well as the local business.
We´ll make you ride!
Book here your windsurf or kitesurfing holidays directly with us
and get a -5% Discount on Room Basis Price and a 15% Voucher for a product of your choice from our surf shop

Kitespot for freeriding
and kite school for all levels

Windsurfing-spot
and windsurf center for all levels

Stand-Up Paddling
Courses and rental

Different room types
in two resorts




Massage and Ayurveda
Packages

Yoga on request
in the morning or evening

Pool for all guests
with kids area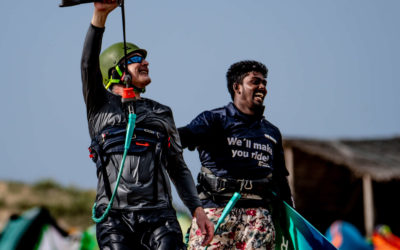 Want to get out and book your Kite holidays during winter months? Well, where would you like to go on Kite holidays during winter months? Will you stay in Europe or fly to North Africa again? Or do you want to discover a new spot in an Asian country? How about Sri...