Kite hotel in Sri Lanka
Rooms in Kalpitiya
Stay in one of our two resorts at Kite hotel in Sri Lanka direct at the kite surf hot spot Kalpitiya Lagoon!
You are looking for a suitable kite hotel in Sri Lanka where you can spend your kite vacation carefree and relaxed? 
Then you are right with us!
No complicated arrival with your kite equipment at our Kite hotel in Sri Lanka, because De Silva is located directly at the kite-spot! Apart from the fact that our team always takes care of your well-being, the atmosphere is absolutely relaxed and the surroundings are very restful.
At De Silva kite hotel we offer rooms for every budget, many leisure activities, traditional dishes and fresh delicacies, a beautiful swimming pool with sunbeds and hammocks and an Ayurveda massage center.
Certainly your will have a unique stay in our kite hotel in Sri Lanka! Have a look at the different rooms on this page, send us your request or book online. We offer you two resorts in our kite hotel in Sri Lanka: De Silva Palmresort and De Silva Windresort!
FOR COMFORT LOVERS – Rooms at DE SILVA Palmresort
About DE SILVA Palmresort
The newer built Palmresort is embedded in a garden of wonderful king coconut palms. You may want to lay in a sun bed at the swimming pool and just hear the wind rustling through the palm leaves or play billiard, ping pong, volleyball…
Perfect place to relax during your holidays and also the ideal place for families or couples with only one kite boarder or wind surfer 🙂
Have a look on our rooms by scrolling down and read the recommendations of other customers who have given their feedback on TripAdvisor
Environmental awareness
Kiteboarding and windsurfing are sports that connect us with nature! We live for the wind, connect to the elements – it´s in our responsibility that those keep clean and free of any pollution, for us and for future generations!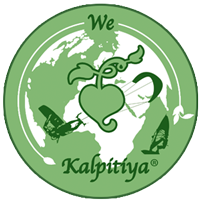 Since 2019 we switched into plastic free resorts! We try to buy regional, we stopped selling plastic water bottles and we are focused on planting new trees.
Within this challange we also aks for your contribution! Instead of plastic bottles we offer several water filling stations where you can refill your glass bottle at any times for just 2€/day!
Let´s try to just leave our footsteps in the sands!
NEW!! Ayurveda Massage Center
Sri Lanka is famous for Ayurveda treatments, massages and diets. To give you most opportunities during your stay at DE SILVA we have opened our new Ayurveda Center where our Ayurveda experts will give you appropriate treatments. You may want to relax during a full body massage, or book the paradise program for several days. Just make your appointment at the reception! 
New Restaurant**
The new restaurant at De Silva Palmresort opened in September 2021. Adapted to the tropical style, Sinhalese delicacies and international dishes await you. We pay special attention to fresh preparation and local suppliers to meet the environmental aspect. Watch out for the chandelier – self-made from recycled material!
We are also happy to cater for guests from outside!
Our tip: If you have a taste for something special, order the unique tuna steak made by De Silva!
Modern. Comfortable. Tropical Style.
Double Relax Rooms, Family Comfort Flats, and Single Chill Rooms. All rooms offer individual, modern furnishings, characterised by a harmonious play of colours and natural ambience.
We offer you a retreat, to relax and enjoy. Experience moments of peace and being yourself at the Palm Resort. Perfect to relax after your surfing day and offer your dear ideal comfort.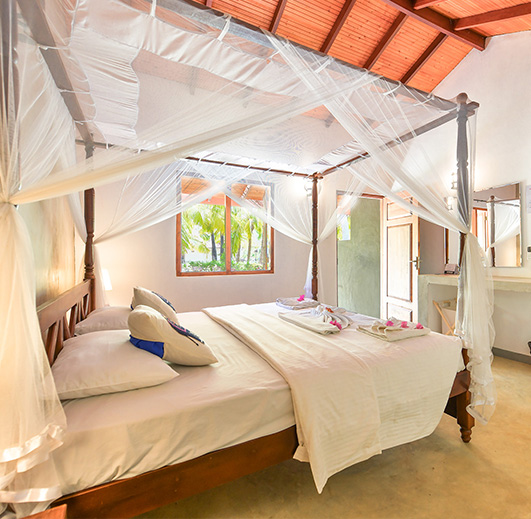 Double Relax Rooms
You find a cosy bed with Mosiquito-net, a cupboard, a bathroom with shower and a terrace in front of the room with garden for your own refudge.
ideal for couples with romantic double bed, terrace with palm garden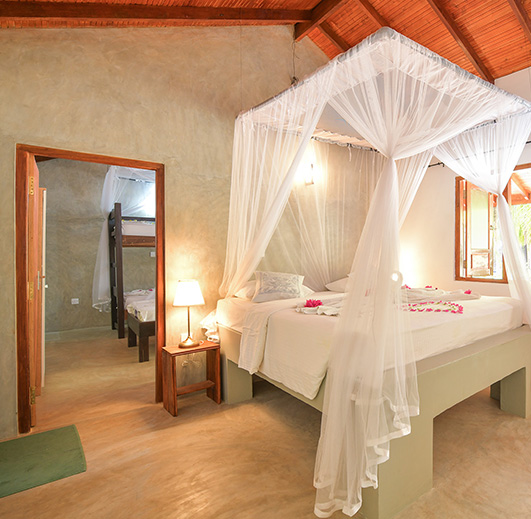 Family Comfort Flats
You are a group of 3-5 people and want to have enough space for all of you? Also a little bit of comfort with air condition and two bathrooms?
price with breakfast and AC, Full board on additional charge
flat with 2x rooms, bathrooms, toilets, terraces; 1x garden
perfect for families with 1-3 children
rooms for FRIENDS & SINGLES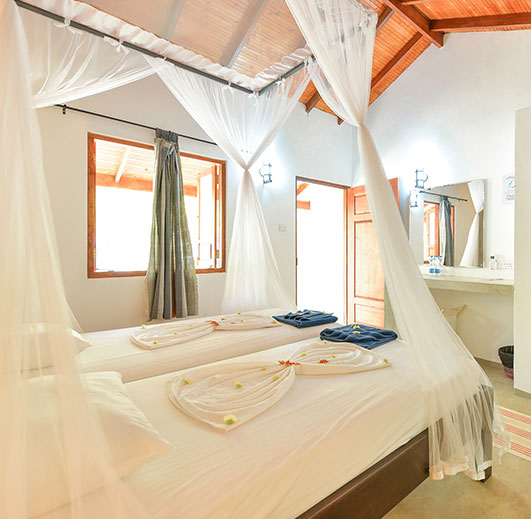 Single Chill Rooms
You want to stay alone in one of our comfortable rooms or bring a friend of yours? No problem, we have the right room for you with two single beds, that can be connected or stay single.
air condition and full board optional
terrace with seating area and garden
Kite hotel in Sri Lanka
IMPRESSIONS OF
DE SILVA
2** PALM RESORT

The stated room prices vary according to season and service booked. Gladly we send you an individual offer or you book directly your stay on our page.
Full board  at DE SILVA Restaurants – BBQ´s – live cooking shows – water at the meals – 24hrs tea & coffee – free 4G WIFI – all taxes & fees – welcome drink – room towels – bed tissues – beach fees – boat transfers at special times – boat rescue at the lagoon once – Yoga lessons – Beach Volleyball – Security service

Kite hotel in Sri Lanka
FOR ECO FRIENDS – Rooms at DE SILVA Windresort
About DE SILVA Windresort
DE SILVA Windresort our first resort is directly located at the kite surf lagoon, with the nominated surf station, the Surfbar and the restaurant. At this Kite hotel in Sri Lanka you fnd the real surfer style, a relaxed place perfect for all who live for the wind and for those who seek for new grounds! The rooms are simple but made with love and we are sure that you will feel that!
Moreover your can read the recommendations of other customers who have given their feedback on TripAdvisor
DE SILVA Restaurant & SurfBar
At the SurfBar you can order coconuts, several cocktails, espresso, beer, wine, hard drinks, soft drinks, milk & ice shakes.
In our restaurant we serve  fresh and regional foods – traditional Sri Lankan meals in a large variety! Tasteful fruits, delicious Rice & Curries, grilled chicken, fresh fishes, prawns, crabs direclty fished from the regional fishers – meals for every taste!
We offer you a 24hrs tea and coffee bar! 
As our resorts are run by Buddhists we do not serve beef or pork ever since. There are a lot of alternatives you will get served which are even more tasteful! 
But also in sense of climate we try to waive on livestock farmings of beef & pork – We hope you understand and get your support!
Amenities (next to kite surfing & windsurfing)
We offer a lot of amenities in both of our resorts you may use to guarantee our customers a great stay, next to the perfect kite surf and windsurf spot!
You may want to chill in the swimming pool, relax in one of our hammocks, observe the kite surf lagoon from the upper deck Chillout Area, have a relaxing Ayurveda massage or make some other sports like Yoga, Beach Volleyball, Badmington, table tennis…
Whatever, it wont get boring at DE SILVA 😉
Swimming pool
DE SILVA offers all guests the option to use the swimming pool at Palmresort for free! The pool is 4 ft deep and is perfect to relax. There are also some massage jets and a baby pool for the small ones. 
JUST RELAX AT DE SILVA
Kite hotel in Sri Lanka
Feel good. Relax. Experience nature.
The rooms in the Windresort offer the perfect surfing style directly at the spot.
All our rooms are furnished with natural materials, are non-smoking rooms and have spacious terraces with hammocks. Choose from our variety of rooms to find the right accommodation for your kitesurfing or windsurfing holiday in Kalpitiya.
STANDARD ROOMS
Comfortable Rooms, with Double bed, Mosquito-nets, electric fans, private bathroom and balcony.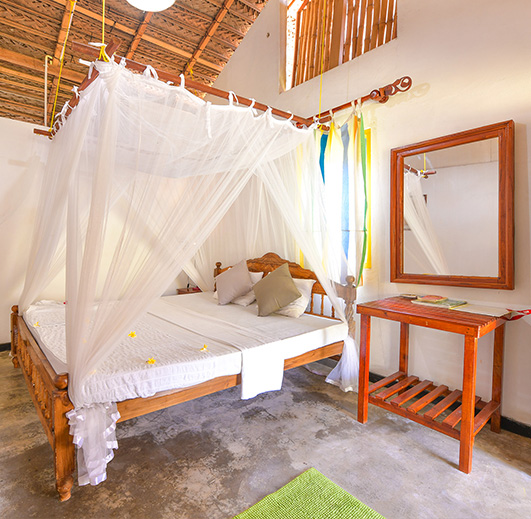 Balcony with seating area and hammock
FAMILY SURF CABANA
SurfCabana XL with huge terrace and tropical garden! Perfect for families and friends!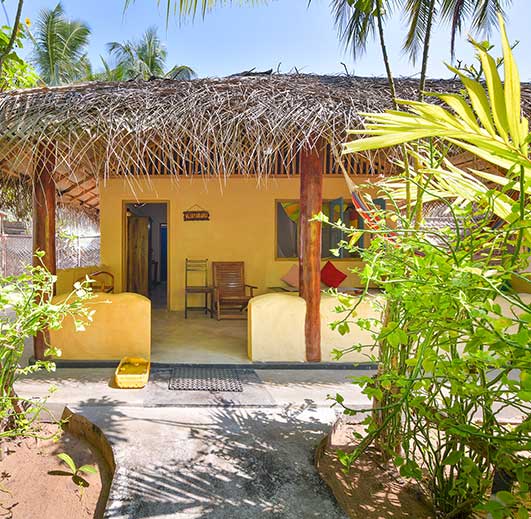 Huge terrace to sit together and play games
Learn how to kite surf
Learn at the best kite school in Sri Lanka and stay directly at the spot in our De Silva Kite Hotel in Sri Lanka!
top equipment to get on board
kite surf instruction zone with standing area
learn with VDWS standards to reach the next level
with your personal trainer who takes care of you
Kite & Stay Packages
at Kite hotel in Sri Lanka
So come for kitesurfing in Sri Lanka
Tizzy Holytimes
3 days kite & stay
stay 3 nights at guesthouse

full board at De Silva Restaurant

10 hrs  kite course in 2:1 instruction system

daily boat transfer at kitesurf lagoon

price offer ONLY for 2 people bookable
Rent & Stay
5 days kite rental & stay
stay 5 nights at standard room

full board at De Silva Restaurant

Rent North Kitebaording equipment

daily boat transfer at kitesurf lagoon

price offer ONLY for 2 people bookable
Learn & Stay
3 days kite course & stay 7 nights
stay 7 nights at standard room

full board at De Silva Restaurant

10 hrs kite course in 2:1 instruction system

daily boat transfer at kitesurf lagoon

price offer ONLY for 2 people bookable