Are you looking for the best kite spots in Sri Lanka? We offer you kitesurfaris and downwinders to the best kite spots around! The BIG Kalpitiya Lagoon is just in front of our resorts where the instructions for kite beginners are held!
FINALLY, good news from Sri Lanka 🙂 Hard to believe – Sri Lanka welcomes all tourists again! So it's time to visit the best kite spots in Sri Lanka again!
According to the new regulations "fully vaccinated" tourists don't need to do a PCR test or a quarantine!
This sounds like "travel like before Covid"?! – That's exactly how it is 🙂
And what can we offer you at DE SILVA?
The best kite spots in Sri Lanka are directly in front of our resorts! Well known is the Big Kalpitiya Lagoon for kite surf beginners and advanced kite riders that want to improve fast! Moreover, there are so many kite spots in Sri Lanka just around the many lagoons of Kalpitiya and Puttalam.
Depending on wind directions and season we invite you to discover the best downwinders all year long!
DOWNWINDERS FROM:
Ilimppativu Island to Vella Island (45min)
Kalpitiya Lagoon/Dream spot to Ilimppativu Island (1,5hrs/1hrs)
Kappaladi lagoon to Kalpitiya Lagoon (1,5hrs)
from Kalpitiya lagoon to Donkey Point (1hrs)
Kalpitiya to Wilpattu National park (2hrs)
Discover secret downwinders around Puttalam and Kalpitiya Lagoons 😉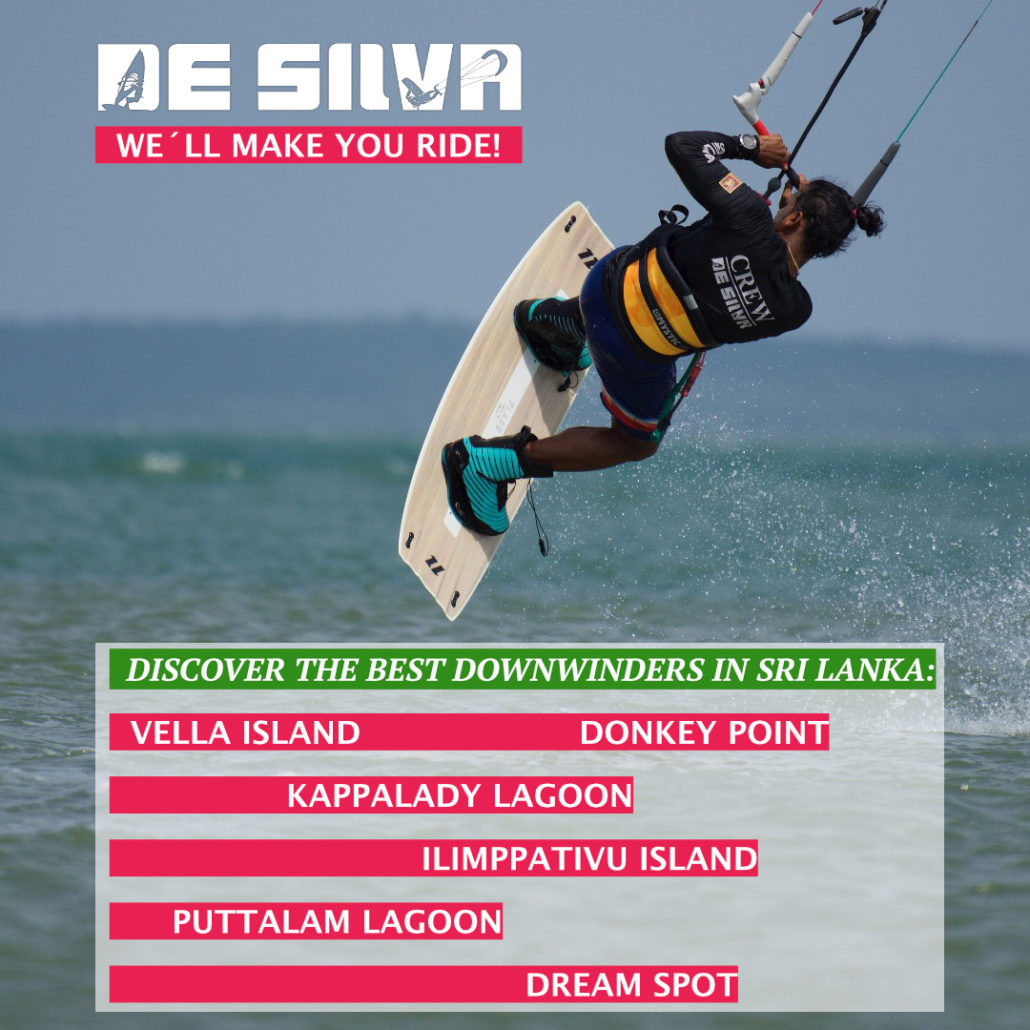 The kite season starts now with December again and brings stable wind until mid-March!
Perfect conditions for beginners await you – We'll make you ride! With the new North Equipment and our well trained instructors (VDWS/IKO) we are looking forward to get all kitesurfing friends safely going! The safety boat is also always on site!
The BIG Kalpitiya Lagoon is perfect for intermediate and pro's to progress quickly and practice new tricks! The lagoon is huge and offers enough space for all DE SILVA guests! If you are looking for adventure you can book with us downwinders and kitesurfaris on site and explore the many lagoons and islands in the region of Kalpitiya and Puttalam!
Where to stay during your kitesurfing holidays?
Well, we have been upgrading our two resorts during the pandemic situation:
At the moment, DE SILVA WINDRESORT is still considered as a Level 1 Hotel for all those who are not fully vaccinated. Therefore the legal quarantine period of 14 nights still applies, as well as the 2 mandatory PCR tests (40USD/test) and the Covid insurance (12USD/1month).
We have renovated the cabanas and also renovated the standard rooms.
It should be mentioned that we also offer optional air-conditioned rooms and cabanas at the Windresort for those who like it cooler!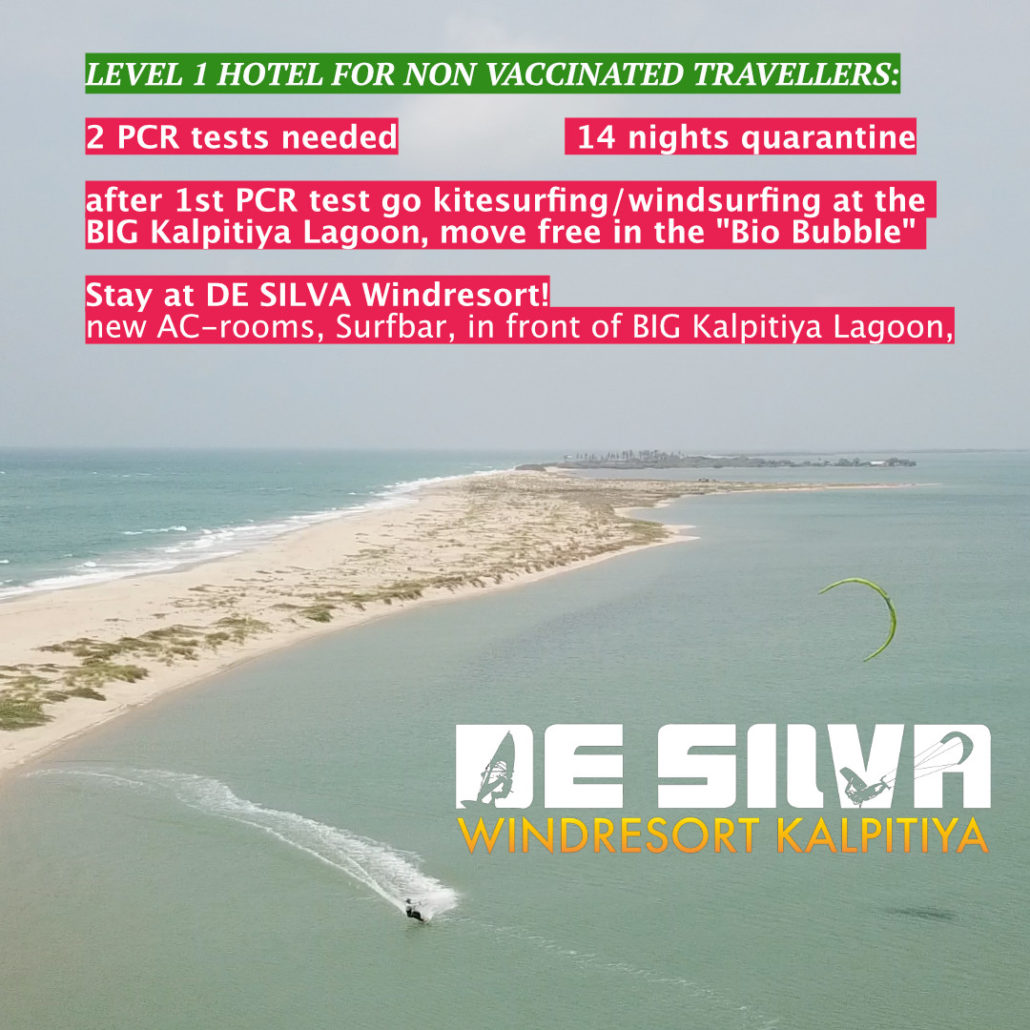 Our second resort, the 2** PALM RESORT has a large swimming pool and a new restaurant with kitchen. This is especially nice! All vaccinated guests and guests who have a legal quarantine behind them are welcome to book overnight stays here.
For all companions who don't like water sports we offer beside the relaxing swimming pool also many activities like billiard, table tennis, volleyball, free wifi, books, badminton, bodega, slake line, children's trampoline, archery and much more.
If you are interested in Ayurveda massages or even weight loss treatments, our professionally managed Veda SPA directly in the De Silva 2** PALM RESORT is the best place for you. Details about the offer can be found on our homepage!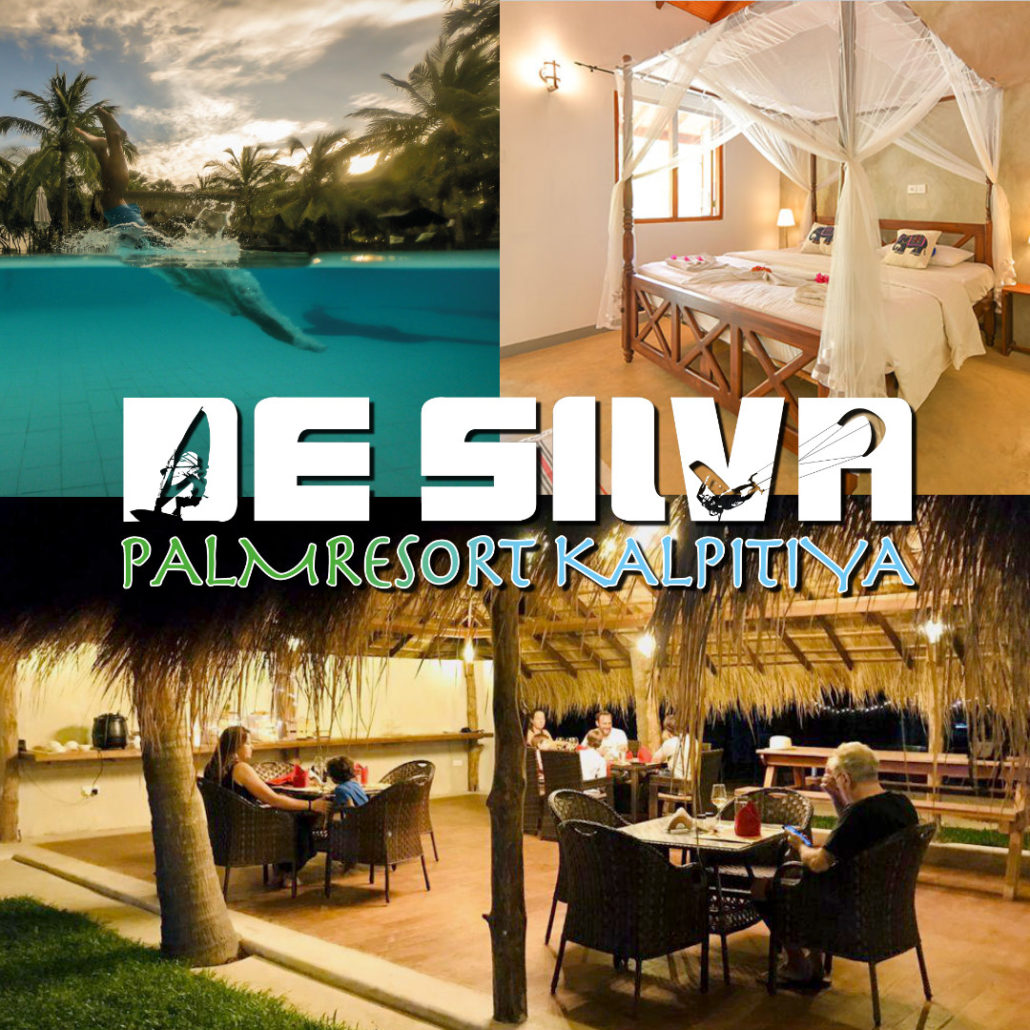 We are very happy to welcome you again at DE SILVA and are waiting for your booking requests for the upcoming winter season 2021/22 🙂
PS: To follow the current Corona regulations in Sri Lanka, or the exact procedure of arrival is perfectly described in the following links:
COVID Fully-Vaccinated: https://srilanka.travel/helloagain/documents/Fully-Vaccinated-Travellers.pdf
Non-Vaccinated: https://srilanka.travel/helloagain/documents/Not-fully-Vaccinated-Travellers-new.pdf