Upul De Silva – Sri Lanka waterman!
Sri Lanka is known for its many stunning sandy beaches. Tourists from all over the world love to travel to Sri Lanka to swim or do water sports on these beaches. But who masters the waves and winds off Sri Lanka like no other? We are looking for the one and only "Sri Lanka waterman" and we announce Upul De Silva:
There can only be one Sri Lankan waterman who rides the water off Sri Lanka's coast with any board under his feet – Upul De Silva. Multiple windsurfing national champion, kitesurfer, foilsurfer, wingsurfer, surfer, stand up paddler, waterskier, wakeboarder – what else can't he ride the water with?
With this in mind, we would like to give you a brief overview of the various water sports and activities in Sri Lanka:
Sri Lanka waterman in windsurf:
Whether freestyle, foil, slalom, freeride or in the waves, you can pursue all variations of windsurfing in Sri Lanka. The Kalpitiya Lagoon in the north-west of Sri Lanka offers the best conditions for freeride, freestyle and slalom. If the wind is good, you can of course also windsurf in the waves at the surf spots. If you want to try out foiling with the windsurfing equipment, we offer you equipment for rent!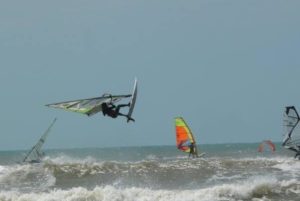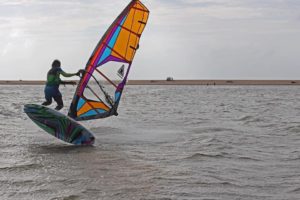 Upul De Silva is considered a windsurfing pro in Sri Lanka. He is a multiple national champion and was able to represent his home country at the Asian Games in 2006 in the discipline Windsurf Olympic Class. At our windsurf school you can do all kinds of windsurfing!

Sri Lanka waterman in kite surf:
Kitesurfing in Kalpitiya is considered a "must travel" in the kitesurfing scene! The numerous windy days make the spot Kalpitiya Lagoon a Mecca for all water sports fans! In addition, there are numerous excursion destinations and downwind possibilities. Kalpitiya Lagoon offers super flat water and is really huge. Ideal for beginners, freeriders and freestylers who want to practice their moves here.
Upul De Silva discovered this spot long before Kalpitiya was open to tourists, at a time when there was still war in the country. He immediately recognised the incredible potential of Kalpitiya. One thing was clear, if he was ever going to open his own water sports school, it would be here in Kalpitiya! So he started to build up his kite surf and windsurf school as one of the first, and present Kalpitiya as hotspot to the world!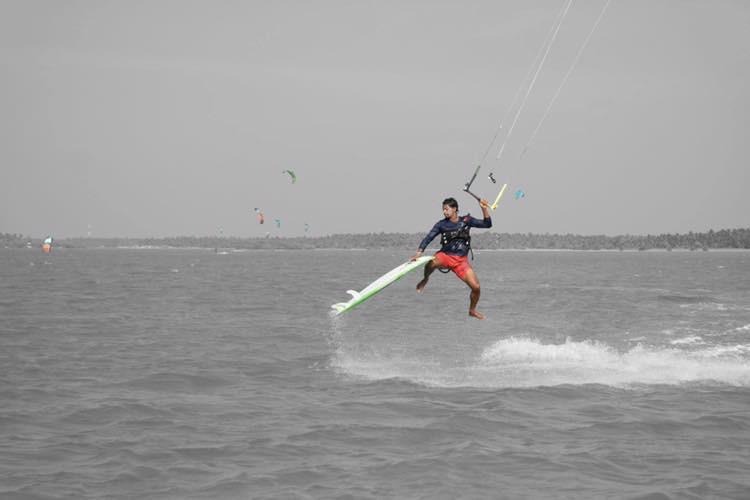 Of course you can take your kite equipment anywhere on the island and catch the winds with it. However, there are hardly any centres that offer kitesurfing. Therefore, Kalpitiya is considered the hotspot in Sri Lanka also because of the ideal conditions of wind, lagoon and sea!
Also you can book kite-foil with us.
Wave surfing: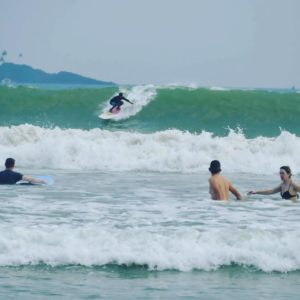 Sri Lanka is known for its perfect wave surfing conditions.
On the pictures you see Upul De Silva kite wave riding and wave surfing in Bentota/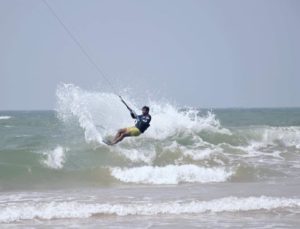 Aluthgama, his home village.
Whether professionals with years of surfing
experience or rank beginners, everyone will find what they are looking for here! There are many spots with different surfing conditions that vary depending on the season:
Summer months: East coast – Arugam Bay (Arugam Main Break, Whiskey Point, Elephant Rock) 
Winter months: West- & south coast – Hikkaduwa, Mirissa, Weligama, Midigama, Ahangama
Beginners: Hikkaduwa, Weligama, Midigama, Arugam Bay 
Advanced & Pros: Mirissa, Midigama, Ahangama, Arugam Bay
Sri Lanka waterman handles all Foiling:
The special thing about foiling or hydro-foiling is that you take off and the contact between your board and the water is only through the foil. This gives you a feeling of floating and at the same time relieves the strain on your joints. A feeling that you have to experience at least once. Whether with a kiteboard, windsurfing board or wingboard, simply try out foiling at our station and make up your own mind!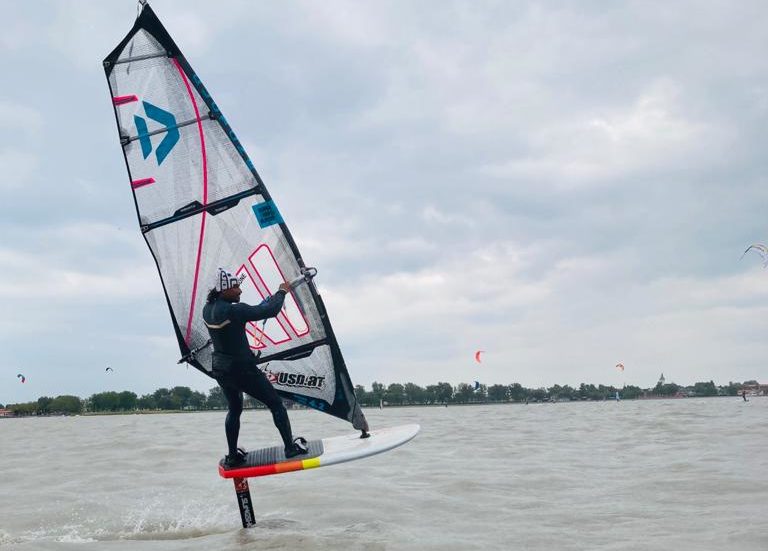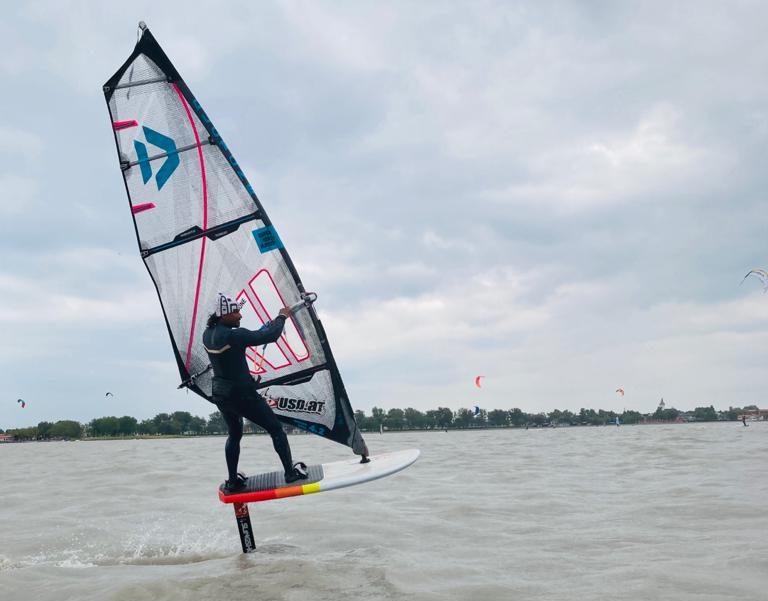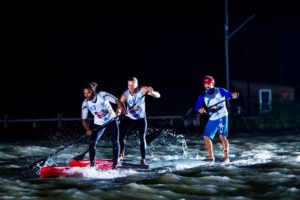 SUP:
Stand Up Paddling, quickly learned but more strenuous than you think. The perfect sport to practice your balance and endurance. For extra fun, try a SUP race or a SUP yoga session! The Kalpitiya Lagoon offers ideal excursions for all SUP enthusiasts, including a SUP tour through the mangroves!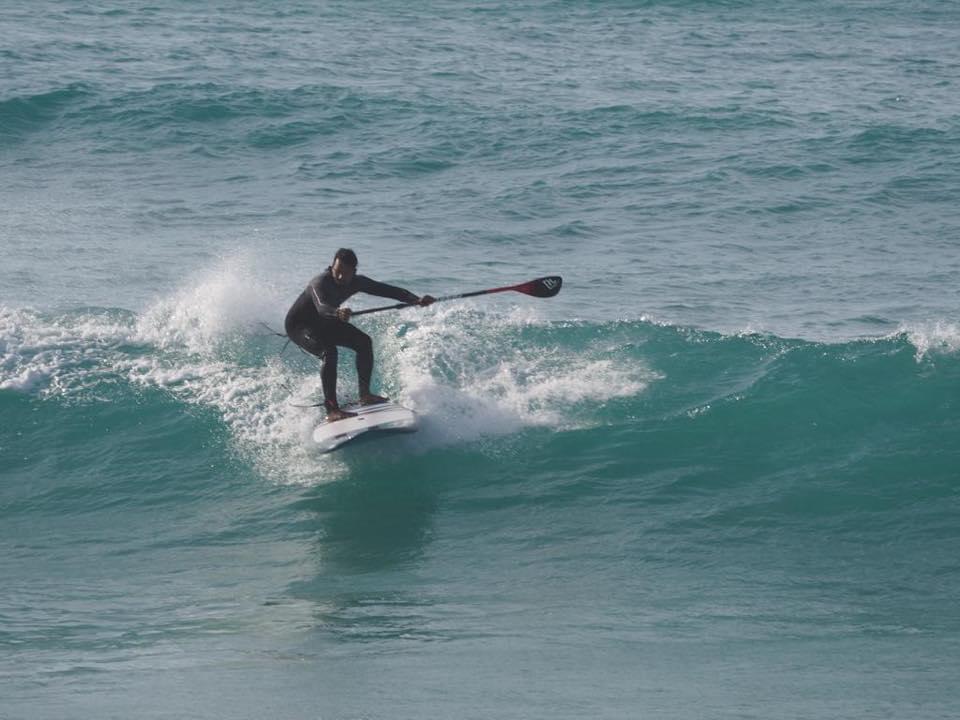 Wing surfing – the new trend sport!

Wing surfing combines several sports. A mixture of windsurfing sail and kite parachute form the wing, which you hold and steer with your hands. You can also use a SUP board for the beginning or start with a wing foil board. We will be happy to introduce you to this new sport of windsurfing on the Kalpitiya Lagoon!
Water skiing/ wakeboarding/ jet skiing:
Whether it's water skiing, mono-skiing, wakeboarding or jet skiing, he can do it all, grown up next to the touristic Bentota River. There are several water sports schools offering all these water fun sports and more. Flyboarding is particularly spectacular. For kids and families, there are also different ways to be pulled by a motorboat like the banana boat, the sofa or various fun tubes! So for those activities we advice to visit Aluthgama/Bentota!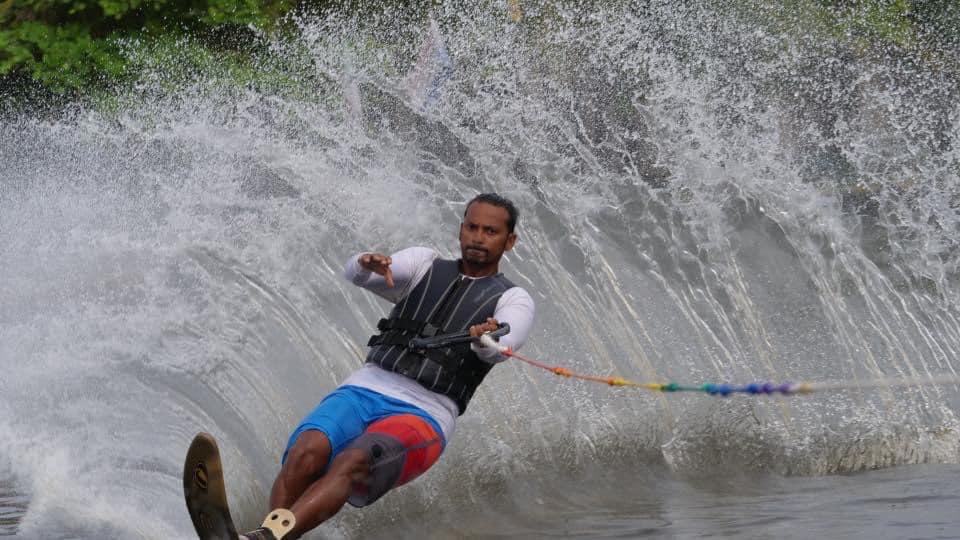 Diving & Whale watching:
Sure you can also go diving in Sri Lanka! Depending on the season, the east coast is ideal in summer and the west coast in winter. Also popular are the numerous whale and dolphin watching centres, which take various boats out to sea to observe the unique sea creatures up clos
During winter months (Nov-April) you can go and have a dolphin tour just from Kalpitiya´s coast! There you can see really a lots of dolphins within just one boat tour!
Down south you can observe whales best!
Sailing: Of course Upul De Silva can also sail different boat classes!
So if you want to nominate someone else as waterman of Sri Lanka who can also do all those sports or more, just send us an e-mail 🙂